FRANCE / SOUTH AFRICA / ZAMBIA
Dream up! Drum up!
In line with the Erasmus+ Inclusion and Diversity Strategy and the European Union's New Youth Strategy, the overall objective of the project is to create the conditions for high quality services for vulnerable youth to mobilize, connect and empower them from local to international levels by targeting three unique groups of youth, namely those
– living on the streets of Lusaka, abused by abusive adults and/or abandoned by parents unable to provide for them
– from the townships of Cape Town in search of fraternity in a post-apartheid world that is still unequal
– mentally and sensorially disabled people in Toulouse, often isolated in living spaces that are not very open to the outside world due to a lack of resources.
Based on a SWOT diagnosis of the resources, skills and experiences of the partnership, the consortium identified four related issues to be addressed, namely
How to give these young people access to relevant artistic practices to increase their social skills and autonomy?
How to better detect and support their creative potential to facilitate their social inclusion?
How to fully use the potential of culture and cultural diversity to promote their well-being?
How to increase the involvement of authorities and youth decision makers at local, regional, national, African and European levels to facilitate the connection of all youth in Africa and Europe?
In response, the project plans a non-formal training program for social facilitators (animators and street educators) and cultural mediators (artists and cultural managers) by organizing capacity building activities and learning mobilities with the specific objectives of :
equiping youth actors with artistic and managerial skills, to increase their capacity to analyze the needs of young people according to their contexts, singularities, particularities or life environments and to equip them for the construction of relevant responses that allow a greater autonomy, involvement and commitment of vulnerable young people in their daily accompaniment
developing the quality and internationalization of partner organizations by increasing their knowledge and expertise in seizing European and international learning mobility opportunities for young people and youth actors
increasing the involvement of authorities, decision-makers and non-governmental youth organizations, locally and nationally, as well as at the African and European continental levels to promote the implementation of good institutional and private practices in favor of the mobilization and connection of young people in Africa and Europe
Artscape – South Africa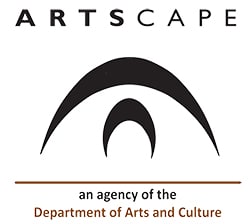 Artscape is a cultural institution, located in the heart of Cape Town. Originally established 40 years ago, Artscape has today developed into a vibrant, multifunctional creative arts centre, offering exceptional venue facilities and specialist theatrical services. The structure is committed to be a vector of growth and transformation for the performing arts, using tools which contribute to build the country, and establishes partnerships including all stakeholders.

Artscape promotes the access to arts, and is today one of the biggest spaces in Africa dedicated to performing arts. Since a few years, Artscape uses an innovative program of education and training, offering opportunities of career for young artists and art technicians and in all the communities of South Africa.

Artscape organizes programs of artistic education and development, which lead to positive changes in the creation of a rich cultural and artistic community. Its programs concern urban, pre-urban and rural communities. The programs "Education", "Skills" and "Development" are composed of artistic activities, and events like the Carnival of Cape Town and many festivals to enhance the communities.
Barefeet Theatre – Zambia
Lusaka, Zambia
From 24th of March to 3rd of April
Following up on an initial project with our partners Artscape and Barefeet between 2018 and 2020, "Dream up! Drum up!" pursues the overall goal of organizing the conditions to bring high quality artistic, socio-educational and managerial services to young people in vulnerable situations to mobilize, connect and empower them from the local to the international level.
For this first mobility we are meeting our partner Barefeet Theatre in Lusaka and 2 other teams of 14 people, coming from South Africa (our partner Artscape) and Toulouse.
The mobility has already exceeded our expectations: good socio-educational practices in the process of being formalized for a potential economic exploitation, transmission of cultural management tools, musical fusion made immediately possible thanks to the work done beforehand by Ivan, visit to the EU embassy, performance on national television and radio program for media coverage.
An extremely full week, carried by a warm atmosphere mixing meetings and first encounters! A big thank you to Barefeet for the quality of its welcome, before everyone meets again in Toulouse for the second stage of this exciting project!
Toulouse, France
Cape Town, South Africa
Cape Town, South Africa