FRANCE / SOUTH AFRICA / ZAMBIA
Erasmus+ program
KA2 – Capacity building in the field of youth
Coordinator
    
Dream up! Drum up!
le projet Dream up! Drum up! planifie un programme de formation non formelle qui s'adresse à des facilitateurs sociaux (animateurs et éducateurs de rue) et des médiateurs culturels (artistes et managers culturels) en organisant des activités de renforcement des capacités et de mobilités apprenantes poursuivant les objectifs spécifiques de :
equiping youth actors with artistic and managerial skills, to increase their capacity to analyze the needs of young people according to their contexts, singularities, particularities or life environments and to equip them for the construction of relevant responses that allow a greater autonomy, involvement and commitment of vulnerable young people in their daily accompaniment
développer la qualité l'internationalisation des organisations partenaires en accroissant leurs connaissances et expertises dans la saisine d'opportunités de mobilité apprenante européenne et internationale pour les jeunes et acteurs jeunesse
accroître l'implication des autorités gouvernementales de jeunesse, localement et nationalement, ainsi qu'aux échelons continentaux africains et européens pour favoriser la mise en place de bonnes pratiques institutionnelles et privées favorables à la mobilisation et la connexion des jeunesses d'Afrique et d'Europe.
Artscape – South Africa
Barefeet Theatre – Zambia
Artscape – South Africa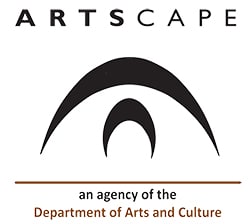 Artscape is a cultural institution, located in the heart of Cape Town. Originally established 40 years ago, Artscape has today developed into a vibrant, multifunctional creative arts centre, offering exceptional venue facilities and specialist theatrical services. The structure is committed to be a vector of growth and transformation for the performing arts, using tools which contribute to build the country, and establishes partnerships including all stakeholders.
Artscape promotes the access to arts, and is today one of the biggest spaces in Africa dedicated to performing arts. Since a few years, Artscape uses an innovative program of education and training, offering opportunities of career for young artists and art technicians and in all the communities of South Africa. Artscape organizes programs of artistic education and development, which lead to positive changes in the creation of a rich cultural and artistic community. Its programs concern urban, pre-urban and rural communities. The programs "Education", "Skills" and "Development" are composed of artistic activities, and events like the Carnival of Cape Town and many festivals to enhance the communities.
Barefeet Theatre – Zambia
Lusaka, Zambia
Toulouse, France
Cape Town, South Africa
Cape Town, South Africa
Lusaka, Zambia
From 24th of March to 3rd of April
Following on from a first project carried out with our partners Artscape and Barefeet between 2018 and 2020, "Dream up! Drum up! pursues the overall objective of organizing the conditions for young people in vulnerable situations to benefit from high-quality artistic, socio-educational and managerial systems to mobilize them, connect them and empower them from the local level to the international.
For this first mobility, we find our partner Barefeet Theater in Lusaka and 2 other teams of 14 people, coming from South Africa (our partner Artscape) and Toulouse. 
The latter has already exceeded our expectations: good socio-educational practices in the process of being formalized for potential economic exploitation, transmission of cultural management tools, musical fusion made immediately possible thanks to the work carried out upstream by Ivan, visit to the embassy of the EU, performance on national TV and radio show for media coverage…
An extremely rich week therefore, carried by a warm atmosphere mixing reunions and first encounters! A big thank you to Barefeet for the quality of its welcome, before everyone meets in Toulouse for the second stage of this exciting project!
Toulouse, France
Cape Town, South Africa
Cape Town, South Africa
Lusaka, Zambia – march 2022
Toulouse, France – June 2022
Cape Town, Afrique du Sud – Septembre 2022
Mobility Toulouse – credits : Oliana Lassalle, Georges Cier, Camille Pelat
We are here in Toulouse, France 🇫🇷 for a 10 days cultural exchange program for Zambia 🇿🇲 South Africa 🇿🇦 and France 🇫🇷.
We are here to learn,perform & share good practices that have helped us achieve our goals in our work with young people.
We look forward to a wonderful stay pic.twitter.com/FM8Oq4tivP

— Barefeet Theatre (@BarefeetTheatre) June 29, 2022